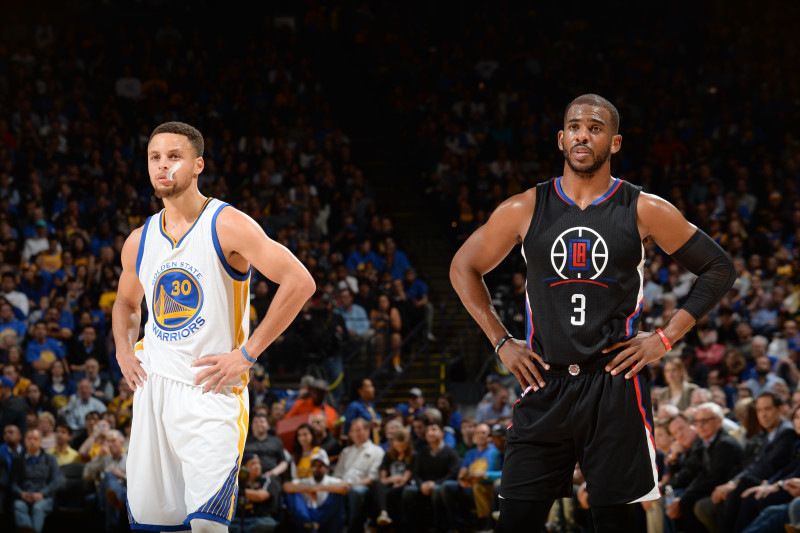 Who's the greatest point guard of all time?

If you're an NBA fan, this is a question you've heard, read or contemplated more than once.

And while the consensus answer has been Magic Johnson for a while, certain members of the field may be catching him.

With his combination of size, vision and passing accuracy, Johnson's table-setting was perhaps unparalleled. But since his retirement, the position has produced the greatest shooter of all time, a triple-double machine and a floor general who earned the nickname of Point God.

Those active players and a handful of other legends make up the top 10 point guards of all time, as determined by largely subjective criteria.

Catch-all metrics like box plus/minus (available from the 1973-74 season on) and win shares per 48 minutes came into play. And you'll see pace and playing-time-adjusted numbers (in the form of "per 75 possessions"). But intangibles have to be factored into these conversations as well.

One final housekeeping note: We'll consider Basketball Reference the arbiter of positional determinations for this piece and subsequent top 10s for shooting guards, small forwards, power forwards and centers.

The only player that affects here comes in at No. 4, so the issue will be addressed there.

10. Isiah Thomas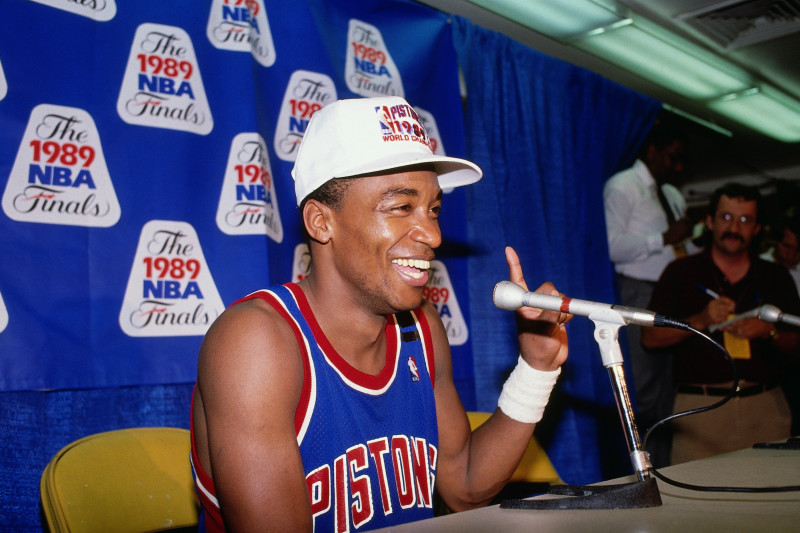 Nathaniel S. Butler/Getty Images
Per Game: 19.2 points, 9.3 assists, 3.6 rebounds, 1.9 steals
Per 75 Possessions: 19.3 points, 9.3 assists, 3.6 rebounds, 1.9 steals
Relative True Shooting Percentage: -2.0
Net Rating Swing: N/A
Box Plus/Minus: +2.2
Win Shares per 48 Minutes: .109

As you make your way through this piece, you'll find that Isiah Thomas' advanced numbers are significantly lower than the others on the list.

"The point guard was never particularly efficient, but his defense and leadership more than made up for the deficits," Bleacher Report's Adam Fromal wrote. "Plus, he was on stacked teams with players who were made better by his sheer presence, so in a way, he actually earned more win shares than he produced solely as an individual."

This is a rare win for the "eye test over numbers" crowd, but the two camps don't need to be completely at odds when it comes to Thomas. Common ground can be found when examining his playoff numbers.

Thomas' 6.4 playoff box plus/minus is far better than his regular-season mark, and it ranks 12th all time (sixth among point guards).

His basic postseason numbers of 20.4 points, 8.9 assists and 2.1 steals are unmatched across league history. And if you relax the qualifiers to 20 points, eight assists and two steals, Chris Paul is the only name added to the list.

Add 12 All-Star appearances, five All-NBA selections, two titles and a Finals MVP to that resume, and it isn't difficult to see why Thomas' advanced numbers couldn't keep him out of the top 10.


9. Russell Westbrook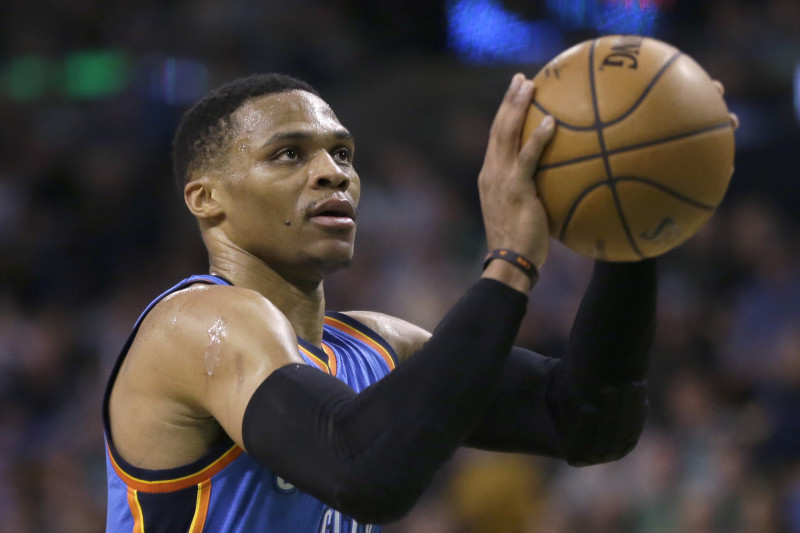 Elise Amendola/Associated Press
Per Game: 23.0 points, 8.4 assists, 7.0 rebounds, 1.8 steals
Per 75 Possessions: 25.1 points, 9.2 assists, 7.7 rebounds, 1.9 steals
Relative True Shooting Percentage: -1.5
Net Rating Swing: +5.3
Box Plus/Minus: +6.6
Win Shares per 48 Minutes: .164
Four or five years ago, Oscar Robertson's distinction as the only player in NBA history to average a triple-double seemed untouchable.

Russell Westbrook has now done it in each of the last three seasons. And when you adjust the numbers from both players so that pace and playing time line up, Westbrook's achievement is even more impressive.

Over the last three seasons, the Oklahoma City Thunder averaged 99.1 possessions per game. At that pace, Westbrook's 35.7 minutes per game converts to about 73.7 possessions. And he averaged 26.8 points, 10.6 rebounds and 10.4 assists in those possessions.

The game was played at a breakneck pace during Robertson's era. And if his 30.8 points, 12.5 rebounds and 11.4 assists from his 1961-62 campaign were adjusted to match Westbrook's pace and playing time over the last three seasons, they'd drop all the way to 17.4 points, 7.1 rebounds and 6.4 assists.

Conversely, Westbrook's numbers at Robertson's pace and playing time would be a ridiculous 47.5 points, 18.8 rebounds and 18.4 assists.

There's no way of knowing whether Westbrook's production would hold up at that pace and for 44 minutes per game. But we're likely taking his previously unseen level of production for granted.

Yes, some of the criticism about chasing numbers is fair. But it generally hasn't come at the expense of the team. On the contrary, OKC's net points per 100 possessions jumped an astronomical 10.3 points when he was on the floor over the last three campaigns.

Right now, Westbrook is among the game's most divisive players. In a poll that asked, "Is Russell Westbrook a top-10 PG all time?," 56 percent of voters said no.

Years from now, with the benefit of hindsight, Russ should get his due.


8. Steve Nash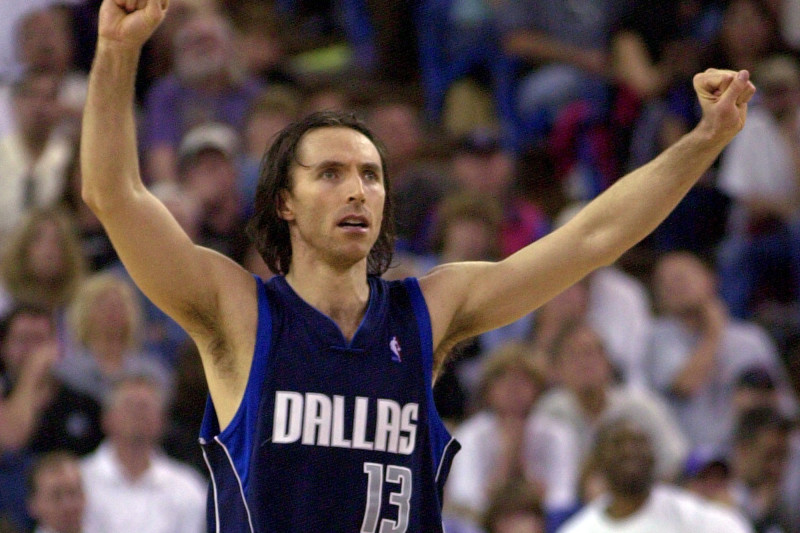 RICH PEDRONCELLI/Associated Press
Per Game: 14.3 points, 8.5 assists, 3.0 rebounds, 1.4 threes
Per 75 Possessions: 17.4 points, 10.4 assists, 3.7 rebounds, 1.7 threes
Relative True Shooting Percentage: +7.4
Net Rating Swing: +7.5
Box Plus/Minus: +1.3
Win Shares per 48 Minutes: .164

You might get a few differences here or there, but in general, a coach would tell you that part of a point guard's job is to run the offense. There's a reason the "floor general" cliche exists, even if it's not quite as important in today's largely positionless game.

In the early 2000s, Steve Nash was the NBA's General Patton.

From 1998-99 to 2003-04, he was the starting point guard for the Dallas Mavericks. His team's offensive rating (points per 100 possessions) of 109.0 was a comfortable first leaguewide. Over his next eight seasons leading the Phoenix Suns, his team was first again. And in that stretch, the gap was even bigger.

For more than a decade, if Nash was your point guard, you were almost guaranteed a top-tier offense.

His knack for getting into the paint (or dribbling and U-turning through it) and finding cutters or shooters at the exact right moment made him one of the league's most prolific assist men.

He's third all time in assists, ninth in assists per game and fifth in assist percentage.

But what made him truly devastating was his shooting. Based on "points above average from three," Nash is the fifth-best three-point shooter of all time, trailing only Reggie Miller, Ray Allen, Kyle Korver and Stephen Curry.

A career relative true shooting percentage of plus-7.4 is absurd. That's "big man who only dunks the ball" territory for efficiency.

That accuracy from all over the floor opened up assist opportunities for the passing maestro. As he came off screens from Dirk Nowitzki, Amar'e Stoudemire or any other big, defenders knew they had to respect Nash's pull-up. That made it more difficult to help onto the rolling or popping big.

Nash's deadeye shooting is a big part of why Nowitzki got so many open looks and why Stoudemire had so many throwdowns.

With his combination of shooting and passing, Nash was an offense unto himself.


7. Jason Kidd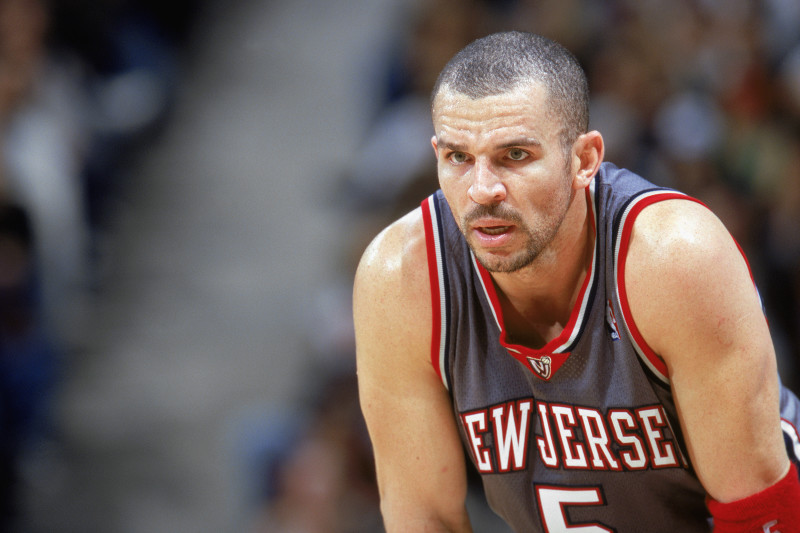 Rocky Widner/Getty Images
Per Game: 12.6 points, 8.7 assists, 6.3 rebounds, 1.9 steals, 1.4 threes
Per 75 Possessions: 13.7 points, 9.5 assists, 6.8 rebounds, 2.1 steals, 1.6 threes
Relative True Shooting Percentage: -2.5
Net Rating Swing: +6.3
Box Plus/Minus: +4.2
Win Shares per 48 Minutes: .133
Long before Russ made us numb to triple-doubles, Jason Kidd helped to popularize them.

If you combine the regular season and playoffs, Kidd had a whopping 118 triple-doubles, which trails only Robertson (189), Magic Johnson (168) and Westbrook (148).

That all-around game made Kidd one of the league's top point guards for nearly 20 years. By the time he was done, he had racked up 10 All-Star appearances, nine All-Defense selections, six All-NBA selections and five assist titles.

And he cemented his legacy as one of the greatest point guards of all time by playing a critical role on Nowitzki's 2011 title team.

By that time, Kidd had undergone a fairly radical transformation. He depended largely on his plus size and athleticism for his position to average 14.5 points over his first 13 seasons. In the same stretch, he shot 33.3 percent from three.

Over his last six seasons, he embraced floor generalship and shot 37.8 percent from deep. In two of those individual seasons, he was over 40 percent.

"Where he was once the league's premier fast-break player, Kidd has evolved into being a tremendous spot-up shooter," SB Nation's Mike Prada wrote in 2011. "The man they once called 'Ason' because he had no J is now a 40-percent three-point shooter. He once knew all the angles in transition; now, he knows all the angles in the halfcourt."

That adaptability helped lengthen Kidd's career. And after 19 seasons, he was 87th all time in points scored, 10th in threes, second in steals and second in assists.


6. John Stockton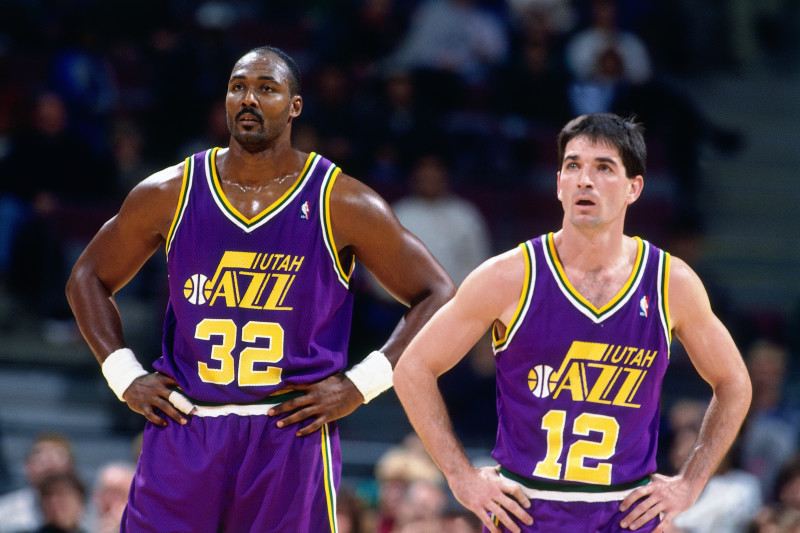 Nathaniel S. Butler/Getty Images
Per Game: 13.1 points, 10.5 assists, 2.7 rebounds, 2.2 steals
Per 75 Possessions: 15.7 points, 12.6 assists, 3.2 rebounds, 2.6 steals
Relative True Shooting Percentage: +7.6
Net Rating Swing: N/A
Box Plus/Minus: +3.5
Win Shares per 48 Minutes: .209
John Stockton is the only player with more assists and steals than Kidd. And Kidd isn't even close.

The distance between Stockton's 15,806 assists and Kidd's 12,091 is about the same as the distance between Kidd and 11th-place Andre Miller.

There's a similar gap in steals. Stockton's lead over Kidd there is around the same as Kidd's buffer between himself and 11th-place Alvin Robertson.

And with regard to those assists, no, they weren't just the product of home-cooking from the scorekeeper, as the long-running myth suggests.

"I don't like saying never, but ain't nobody catching that," CP3 said in February of Stockton's assist record, per the Washington Post's Ben Golliver. "I don't know who did the statistics in Utah."

Over the course of his career, Paul has averaged 0.8 more assists per game when playing at home. That's the exact same number as the difference between Stockton's home and away numbers.

Stockton's unreal totals are the product of nearly unparalleled durability (he's fourth all time in games played) and a preternatural feel for the pick-and-roll.

"If you want to teach aspiring ballers the pick-and-roll," Complex's Angel Diaz wrote, "...just put on game tape of [Stockton and Karl Malone] and walk away."


5. Chris Paul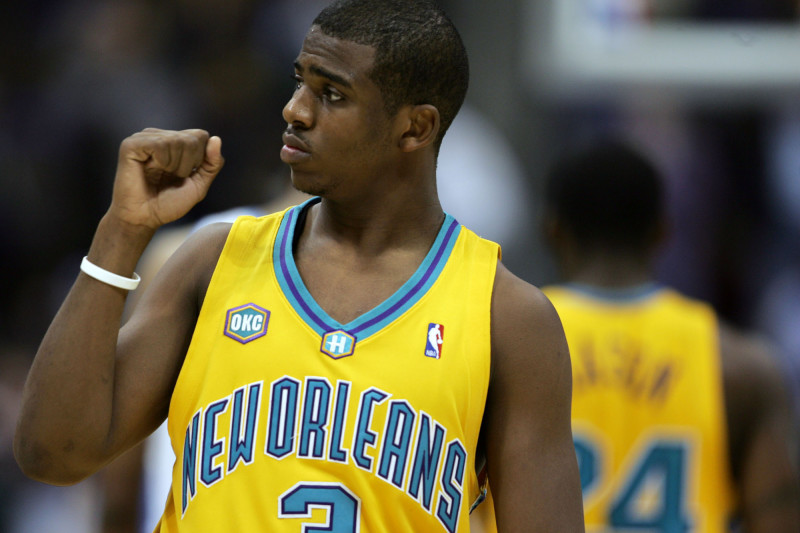 DAVID ZALUBOWSKI/Associated Press
Per Game: 18.5 points, 9.7 assists, 4.5 rebounds, 2.2 steals, 1.3 threes
Per 75 Possessions: 20.6 points, 10.8 assists, 5.0 rebounds, 2.5 steals, 1.5 threes
Relative True Shooting Percentage: +3.7
Net Rating Swing: +10.9
Box Plus/Minus: +7.3
Win Shares per 48 Minutes: .247
If this ranking was based on nothing but advanced numbers, Paul would top the list.

He's first all time among point guards in box plus/minus, win shares per 48 minutes and playoff box plus/minus. He trails only Magic Johnson and Jerry West among point guards in playoff win shares per 48 minutes.

"The classic definition of a point guard, orchestrating offense and shooting when necessary," ESPN's J.A. Adande wrote of Paul. "One of the best—and quickest—lob passers the game has ever seen."

Paul's ability to put the ball on time and on target to shooters and alley-oop threats did wonders for the careers of David West, J.J. Redick, DeAndre Jordan and Blake Griffin, just to name a few.

And like Nash, Paul's prowess as a shooter forces defenders to play him tight in pick-and-rolls. Over the course of his career, CP3 has shot 47.1 percent on two-pointers from five feet and out.

As he turns the corner post-ball screen, Paul knows exactly how to get to his spots on the floor. He knows how far he needs to prod to get a three or an alley-oop. And he knows when he has to pull up for that reliable mid-range shot.

Like Hunter Hearst Helmsley, CP3 is a cerebral assassin who can pick apart whatever defense is thrown at him. But what really sets him apart is his defensive prowess.

ESPN's Bradford Doolittle called him "the best two-way small player in league history." And the numbers back that up.

Defensive box plus/minus is not without its flaws, but Paul's 0.7 is third among players standing no taller than six feet. Mookie Blaylock and Foots Walker are the only two ahead of him. And only five of the 53 are even above zero.


4. Jerry West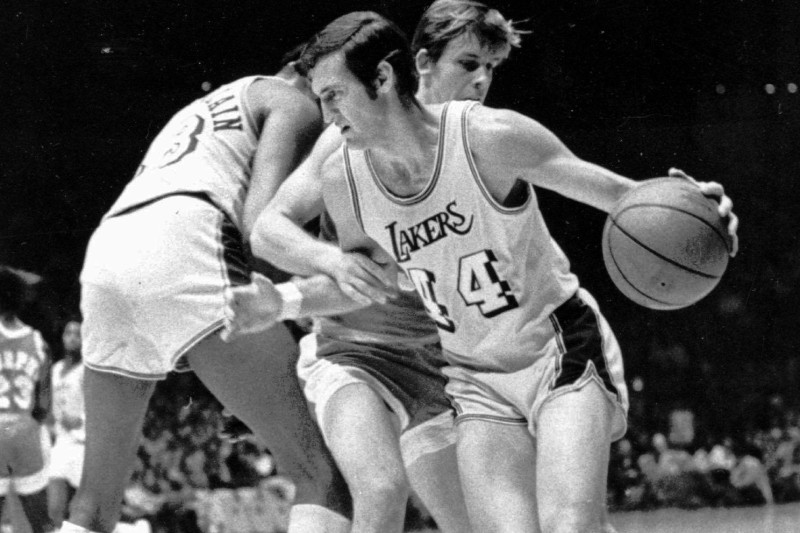 Associated Press
Per Game: 27.0 points, 6.7 assists, 5.8 rebounds
Per 75 Possessions: 18.5 points, 4.6 assists, 4.0 rebounds
Relative True Shooting Percentage: +5.6
Net Rating Swing: N/A
Box Plus/Minus: N/A
Win Shares per 48 Minutes: .213
Some may consider Jerry West a shooting guard, but Basketball Reference has him listed as a point for 12 of his 14 seasons. And his 9.7 assists per game in 1971-72 led the NBA.

Either way, West is more than a legend. He's the logo.

"As relentlessly competitive and prolific as Jordan; there's a reason West's silhouette is the NBA's logo," ESPN's Rob Peterson wrote.

And that reason is West's dominance for over a decade of the league's formative years. Beyond leading the NBA in assists in 1972, West also won a scoring title with 31.2 points in 1969-70.

He generally upped his performance in the playoffs as well. He averaged 40.6 points in the 1965 postseason. And in five postseasons from 1965 to 1969, he averaged 32.9.

By the time he retired in 1974, West was a 14-time All-Star (he played only 14 seasons), a 12-time All-NBA selection and a five-time All-Defense selection. He won a title in 1972 and was the only Finals MVP to come from a losing team in 1969.

There's always a temptation to have players from this era ranked lower on all-time lists, or even excluded altogether. They played in a league with significantly fewer teams and players. The talent level was lower. The game was less evolved. And their numbers may be inflated, too.

But players like West and Robertson are part of the fabric of the NBA. And though there was less of a basketball landscape for them to dominate, they dominated who was there.

West's 27.0 points per game ranks sixth among players with at least 5,000 minutes over the course of his career, trailing only Kareem Abdul-Jabbar, Wilt Chamberlain, Bob Pettit, Elgin Baylor and Rick Barry.


3. Oscar Robertson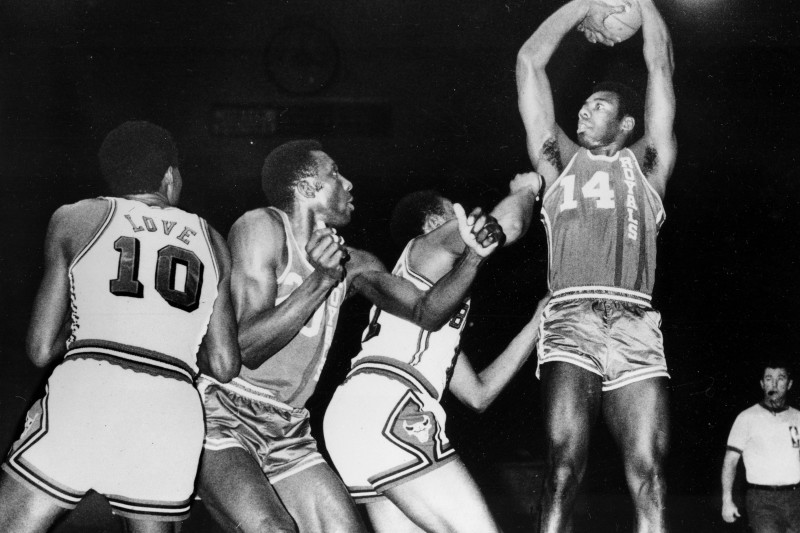 Associated Press
Per Game: 25.7 points, 9.5 assists, 7.5 rebounds
Per 75 Possessions: 16.6 points, 6.1 assists, 4.8 rebounds
Relative True Shooting Percentage: +7.0
Net Rating Swing: N/A
Box Plus/Minus: N/A
Win Shares per 48 Minutes: .207
Another player from a bygone era, The Big O was the standard bearer for this position for roughly two decades before Magic came along.

And the two legends share plenty in common.

At 6'5", Robertson had great size for a point guard, especially when compared to others of his time. And like Magic, he collected triple-doubles at a rate we hadn't seen until Westbrook showed up.

Robertson played a total of 1,126 games in the regular season and playoffs, and he notched triple-doubles in 16.8 percent of them.

In 2013, Kareem Abdul-Jabbar sang Robinson's praises during an interview with ESPN's Colin Cowherd (h/t Phillip Barnett of Lakers Nation).

"LeBron is awesome, MJ was awesome—but I think Oscar Robinson would have kicked them both in the behind. Absolutely. Oscar was awesome. He had brains. […] He had all the skills.

"He could rebound and box out guys four and six inches taller than him. He was ruggedly built. He had fluid, quickness, and just understood the game. No flair, he just got the job done every night."

Over the course of his career, Robertson was seventh in the league in points per game, first in assists per game and fifth in win shares per 48 minutes.

2. Stephen Curry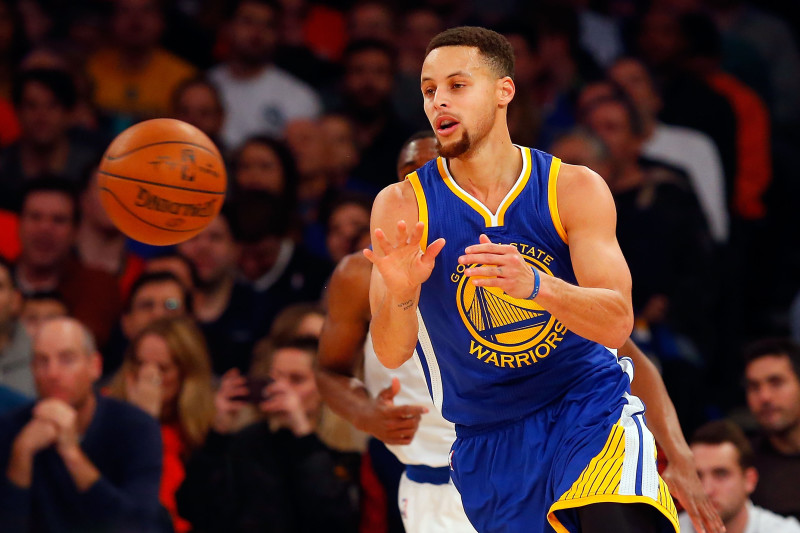 Jim McIsaac/Getty Images
Per Game: 23.5 points, 6.6 assists, 4.5 rebounds, 3.6 threes, 1.7 steals
Per 75 Possessions: 25.1 points, 7.1 assists, 4.8 rebounds, 3.8 threes, 1.8 steals
Relative True Shooting Percentage: +8.0
Net Rating Swing: +12.1
Box Plus/Minus: +6.5
Win Shares per 48 Minutes: .207
Ten years into his career, Stephen Curry already has an argument as the best point guard in NBA history.

In a blind poll that pitted Curry's career numbers up against Magic Johnson's, the former won comfortably. When the numbers were limited to six-year peaks, Curry won in a landslide.

This shouldn't be all that surprising. Curry is on track to be the most prolific offensive player in league history, at least according to one metric.

Right now, his 7.13 career offensive box plus/minus trails only LeBron James' 7.25. Over the last five seasons, Curry's is 9.5, compared to LeBron's 6.8. If those trends hold, Curry should be No. 1 all time by the end of the 2019-20 campaign.

"He is the most impactful offensive player in terms of what he does to the defense—maybe ever," Warriors head coach Steve Kerr said in 2017, per USA Today's Chris Biderman. "There are guys, obviously, Michael Jordan impacted things. But the way Steph plays, [he] puts the fear of God into defenses like nobody I've ever seen."

Kerr's right. His point guard figuratively changes the geometry of the floor. He commands double-teams 35 feet from the rim, allowing his teammates to play 4-on-3 on countless possessions over the years.

This is the evolution of Nash—a prolific shooter who's unleashed to launch as many threes as he can.

Along with Michael Jordan, Dirk Nowitzki and a handful of others, Curry is among those exceptionally rare players who truly changed basketball.


1. Magic Johnson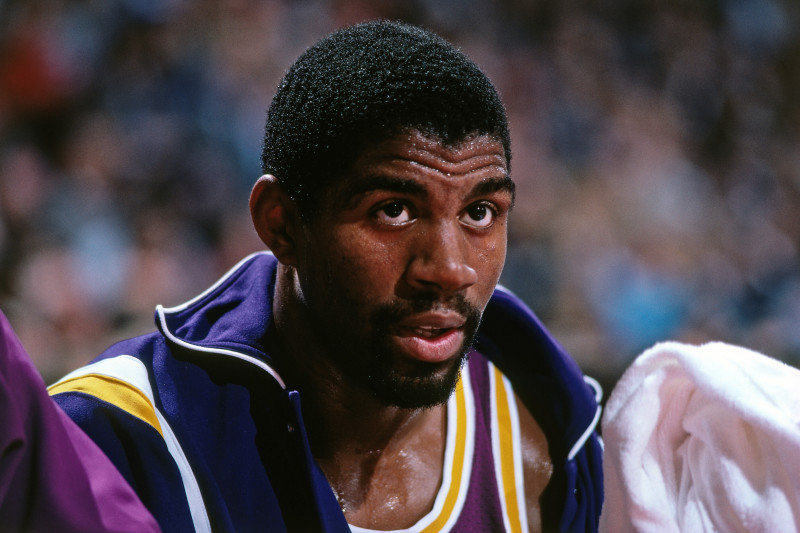 Brian Drake/Getty Images
Per Game: 19.5 points, 11.2 assists, 7.2 rebounds, 1.9 steals
Per 75 Possessions: 19.0 points, 10.9 assists, 7.0 rebounds, 1.9 steals
Relative True Shooting Percentage: +7.3
Net Rating Swing: N/A
Box Plus/Minus: +7.2
Win Shares per 48 Minutes: .225
While some of the numbers might favor Curry, Magic maintains a slight edge in the "best point guard of all time" debate by virtue of legacy points.

Magic has five NBA titles compared to Curry's three and three Finals MVPs compared to Curry's zero. Magic's 12 All-Star appearances are twice as many as Curry's six. And Magic's 10 All-NBA selections are ahead of Curry's six.

There's still time for Curry to close the gap, but Magic is hanging on for now.

"No one was more dynamic, or magical, with the ball in the open court than Earvin Johnson," ESPN's Rob Peterson wrote. "He lifted the Lakers, and transition basketball, to ethereal levels. He was transcendent."

Query "Magic Johnson highlights" on any search engine you want and prepare to go down a basketball rabbit hole. The way he controlled the game and manipulated defenders with his vision and passing jumps off the screen to this day.

You can see traces of his influence in players like LeBron James and Nikola Jokic, but no one has truly surpassed Magic's level as a passer.

In combination with his competitiveness and leadership, that helped Magic take the reins of one of the greatest teams of all time—one that included fellow Hall of Famers like Abdul-Jabbar and James Worthy—the Showtime Lakers.


*The possessions estimate for Jerry West and Oscar Robertson is calculated as field-goal attempts plus 0.44 times free-throw attempts plus turnovers (conservatively estimated at 20 per game).

Unless otherwise noted, all statistics courtesy of Basketball Reference.